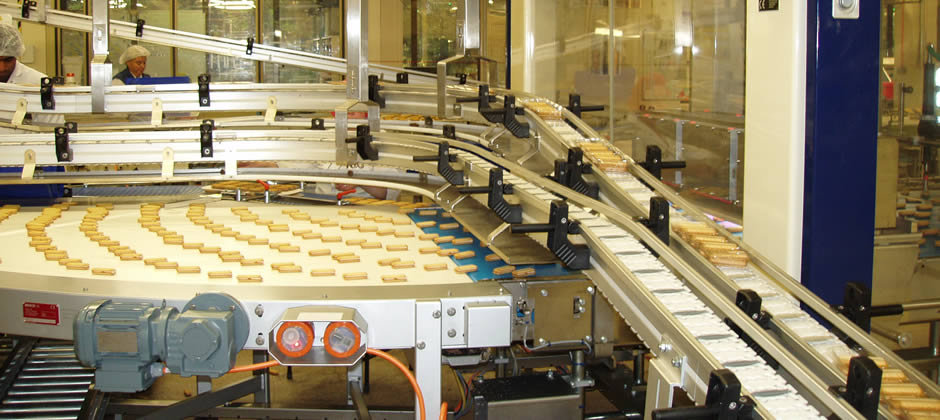 The Specialist Type of Belt
Transbelt has been a leader in the field of industrial conveyor systems since the 1970s, one of our specialist areas is the supply, installation and maintenance of pharmaceutical and food conveyor belts.
The Transbelt Range of Pharmaceutical and Food Conveyor Belts
A small selection of the industries that we supply food conveyor belts to includes but is not limited to:
Fruit and vegetable processing

Bakeries

Raw food/salad

Meat and fish

Processed foods

Drinks
We supply a fully comprehensive range of pharmaceutical and food conveyor belts, all of which are fully EU and FDA compliant, produced at our HACCP compliant premises.
Our belts are made with high performance coatings, allowing for excellent release properties and are resistant to oils and fats, as well as standing up to stringent cleaning regimes.
Hygienic Industrial Conveyor Systems and Belts
We offer an innovative range of mono-material positive drive belts ideal for the food and pharmaceutical industries.
These purpose built industrial conveyor systems are designed to be simple to clean, with no areas for dirt and bacteria to become trapped.
They are waterproof, rot proof and resistant to chemicals.
They also reduce operating costs because these belts are easy to clean without dismantling the system.
Our hygienic belt range is lightweight, resistant to tears and operates silently.
The molded teeth of the belt are built right into the material itself – and one continuous belt means nowhere for dirt to become trapped.
About Transbelt; The Pharmaceutical and Food Conveyor Belt Manufacturer
As a food conveyor belt manufacturer, we look after the entire process in-house, ensuring Transbelt quality service at every stage of the journey for all of our customers.
Did you know that Transbelt also guarantees to beat the price that you are currently paying out for your conveyor belts?
That's right.
We are a specialist pharmaceutical and food conveyor belt manufacturer, offering round the clock servicing support, that guarantees savings.
If you would like to discuss saving money by switching your business to Transbelt please get in touch.