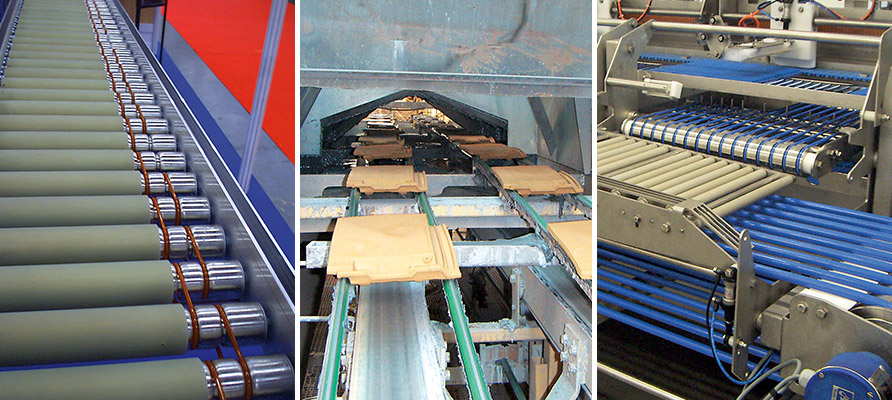 Uses for round conveyor belts
As a leading manufacturer and supplier of conveyor belts, Transbelt offers a complete range of round conveyor belts, designed and fitted to meet the specific needs of each customer.
If you have the requirement to produce construction materials such as roof tiles, glass panels, timer or brickwork, Transbelt is able to provide round drive belts with extrusions that have a high resistance to wear, oils and solvents, including round rubber drive belts specific to this purpose.
Round conveyor belts are also often used in food industries.
Where direct food contact is required, or for use in canning applications we can supply round drive belts – both monolithic and reinforced – with food quality profiles.
Transbelt round conveyor belt stock
Transbelt also stocks almost all conceivable types of thermo weldable round conveyor belts. These include but are not limited to:
Reinforced round conveyor belts that prevent elongation and reduce tension. This type of round drive belt is suited to most applications requiring full load start-up, a heavy load or long distance centres
Frosted round conveyor belts that work to decrease the friction coefficient and facilitate smoother transportation of accumulated product
Tubular round drive belts that enable joining on site without welding, via a non return plug which is inserted into each end. This allows for quick assembly/disassembly and repair
All of the above types of conveyor belt can be manufactured endless in a range of diameters. All are also available as round or V Extrusion.
Why choose Transbelt for round rubber drive belts?
Whatever conveyor belts you require, Transbelt is ready and available to assist. We have been an industry leader in the field of conveyor belts since the 1970s and we are recognised as such by customers all over the world.
We promise the best value and the best service. To ensure this we hold an extensive range of stock and make ourselves available 24 hours a day, 7 days a week for your convenience.
We are able to provide many types of conveyor belt on the day you place the order, at no additional cost to you. Of course, we're always available to expertly install them as well.

So whatever your requirement – whether for round conveyor belts, V Extrusion or otherwise – and whatever your industry, you are in good hands with Transbelt.