V Extrusion and Round Conveyor Belts
For the production of bricks, roof tiles, glass panels and timber profiles; Transbelt are able to supply extrusions with high resistance to wear, oils and solvents. A range of food quality profiles, both monolithic and reinforced are available for direct food contact and canning applications.
We stock all types of thermoweldable round conveyor belts including:
Reinforced: to prevent elongation and reduce tension requirements. Ideally suited to applications that require full load start-up,heavy loads or long distance centres
Frosted: to decrease the friction coefficient and facilitate smoother transportation of accumulated product.
Tubular round belts: to enable joining on site without welding,via a non return plug which is inserted into each end. This allows for quick assembly/disassembly and repair.
All types can be manufactured endless in a range of diameters.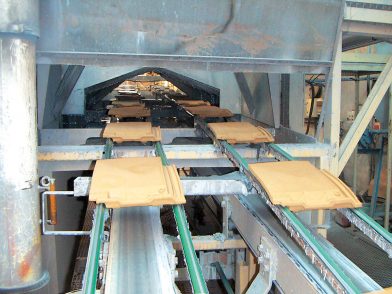 We also supply a wide range of V-belts including:
Polyurethane
Kevlar reinforced
Double sided
Cogged
Coated (in various coatings including Linatex,foam,rubber and felt)
Download Round and V Extrusion Catalogue